Busy, busy, busy!
Sept. 4, 2016
A whirlwind year (so far) of designing and knitting.
It has been ages since I last posted and a lot has happened in that time. I have been extremely busy designing and knitting my designs. I set out a couple of years ago to try my hand at designing. I honestly thought it would probably be a long shot for me to have any kind of success. However, over the past year I have had several designs published in Knitscene and Love of Knitting magazines. One of my designs was even on the cover of Knitscene Fall 2016!!
I even managed to squeeze in a couple of self-published designs: A Touch of Frost Hat and Hinterland Shawl. I have a few more designs for both of these magazines coming out in future publications. It's all very exciting! It gives me more confidence in my abilities. I hope my good luck continues into the future!
My Carys Scarf was the first design to be accepted by Love of Knitting in the Summer 2016 issue.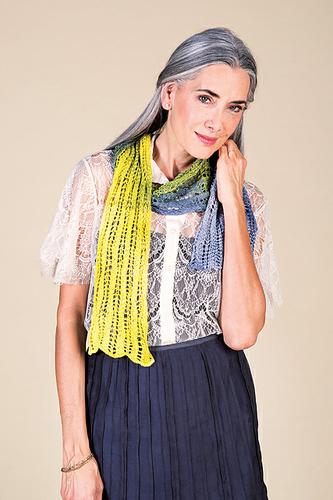 Carys Scarf for LOK
LOK chose the yarn, The Unique Sheep's Green Cotton Bamboo fingering wt in Summer Storm gradient colorway.
The yarn is just lovely to work with. It is soft, drapey, washes and blocks beautifully. I would highly recommend it! I was not thrilled with the color chosen, summer storm. The colors are very saturated and bright, but I just didn't like this particular combination of bright lemon yellow and blue-gray.
I knit my mother a scarf with the same yarn, but in the Tress colorway: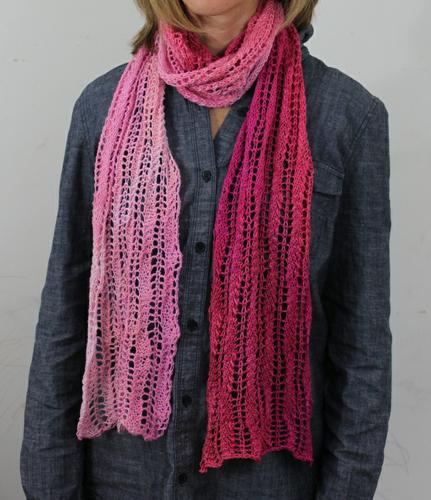 pink Carys scarf
Next, I had two projects for Knitscene Handmade 2016 The first is the Loveland Cowl which is reversible, stripes on one side and a scalloped fair isle pattern on the other side. It is worked in the round, folded in on itself and kitchener stitched together.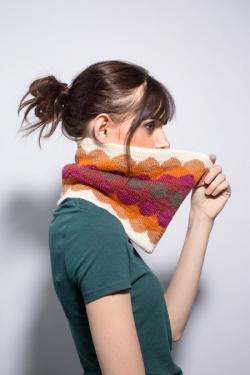 Loveland cowl
The yarn chosen is Frabjous Fibers Wonderland Mini-skein pack. I started with the Mimsy colorway which are shades of purple, very pretty. As I was knitting, I became worried that the colors were too close in shade and would be indistinguishable from each other. So I asked if I could knit another sample in a different colorway. Cats in the Coffee is the color sent to me and it was just perfect for this project as seen in the picture above. In the end, the Mimsy color was just fine and looks nice. However, I do prefer the Cats in the Coffee! See for yourself here: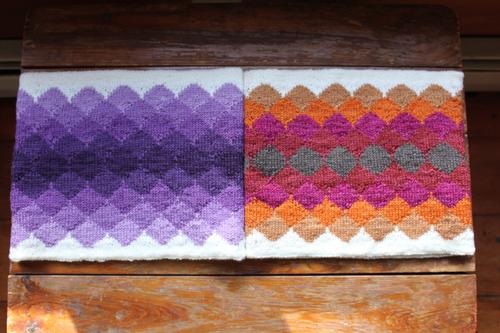 Mimsy and Cats in the Coffee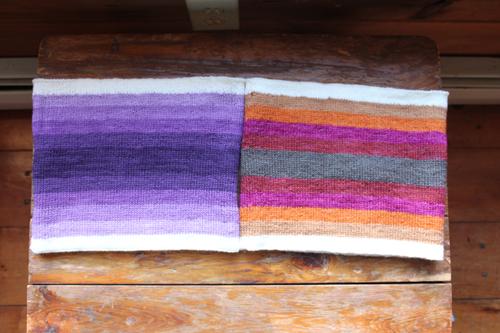 stripes
The second project is the
Happy Jack Cowl
. It features an all over texture pattern comprised of drop stitch cables (much easier than it sounds). The yarn is
Sweet Georgia Yarns Superwash Worsted
in the color turmeric, which was especially created for this cowl.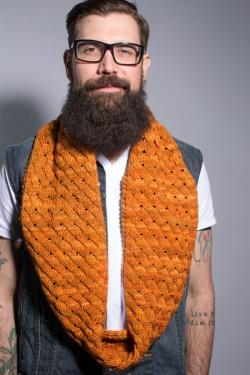 Happy Jack Cowl
I then had two more pieces for Love of Knitting Fall 2016. The first is the Evelyn Cowl which is an oversized, textured cowl knit with yarn from one of my favorite yarn companies, Quince & Co. The yarn is Puffin, which is a bulky weight in the color Honey.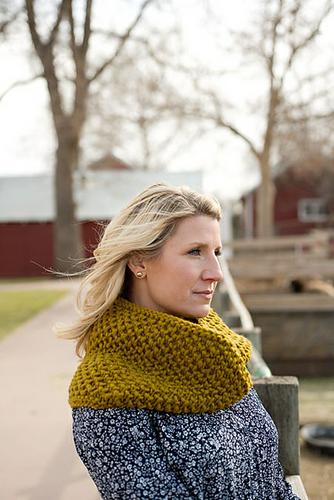 Evelyn Cowl
The second piece is the Apricot Shawl, a triangle shawl with a slipped stitch pattern and border. This was knit with Stitch Sprouts Yellowstone sport wt in Forest Fire colorway.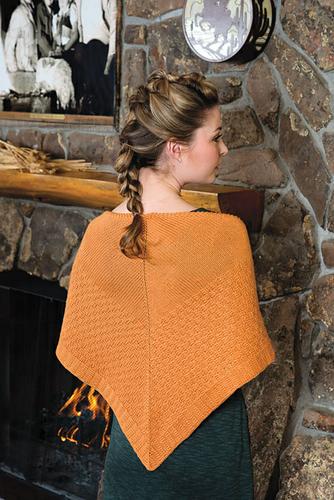 Apricot Shawl
Back to Knitscene for their Fall 2016 magazine and my pattern is on the cover!! Yippee!! That was a nice surprise!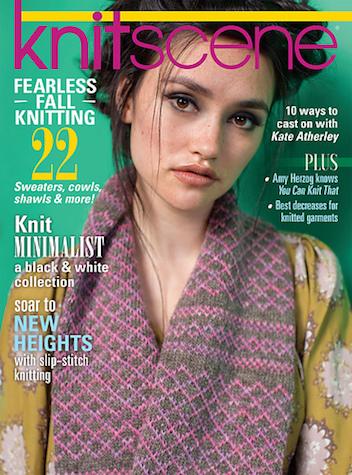 My contribution was the Barton Cowl, which features an allover fair isle pattern. The yarn used Green Mountain Spinnery Simply Fine in Azalea and Natural Dark. My initial vision for this cowl was something with a little more contrast between the two colors used and I also wanted the contrast color to be multicolored as seen in my swatch: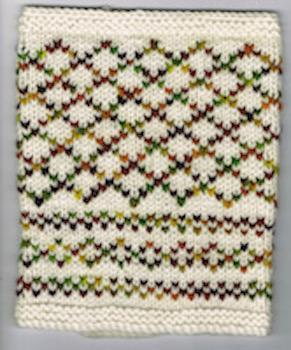 Barton swatch
The yarn I used didn't have those qualities so I was a little concerned how it would turn out. However, my worries were unwarranted as I think it looks great in the chosen colors.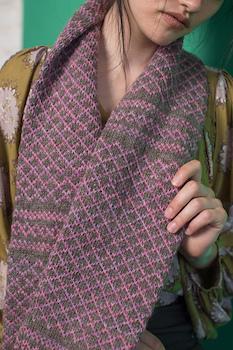 Barton Cowl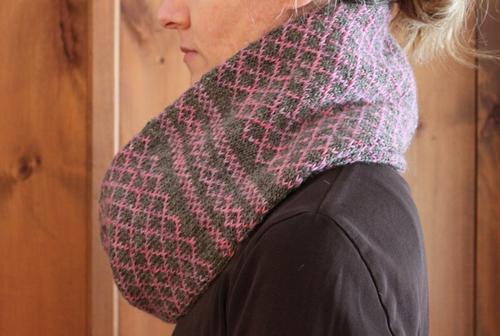 Barton Cowl on me
Somewhere in between projects I managed to self-publish two designs. The first is A Touch of Frost Hat, an allover textured hat.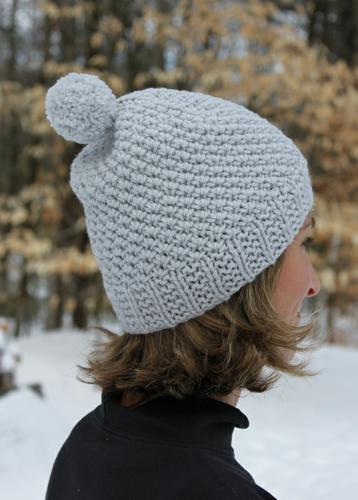 A Touch of Frost Hat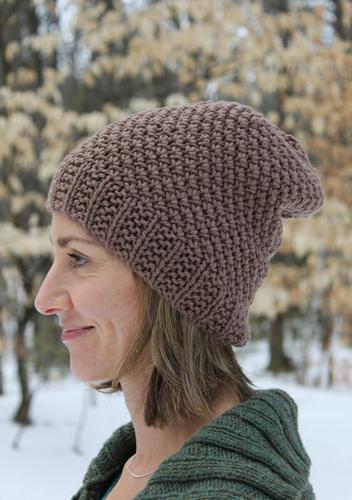 A Touch of Frost Hat Slouchy
And last but not least is my Hinterland Shawl. I used the gorgeous Woolen Rabbit Harmony Sock Companion gradient Kit in Northern Woods colorway This triangle shawl is knit from on tip and works its way across to the end. It is knit in garter stitch with some dropped stitch sections to separate the colors and provide some visual interest.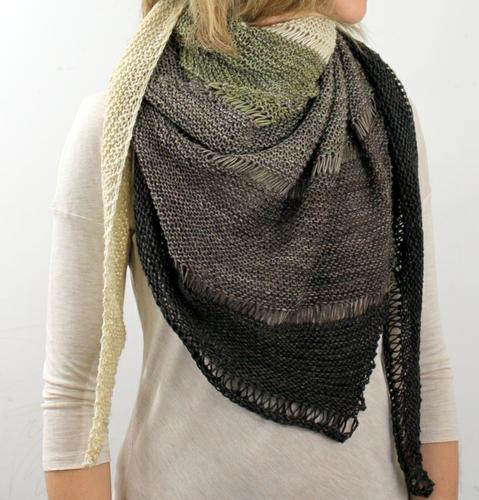 Hinterland Shawl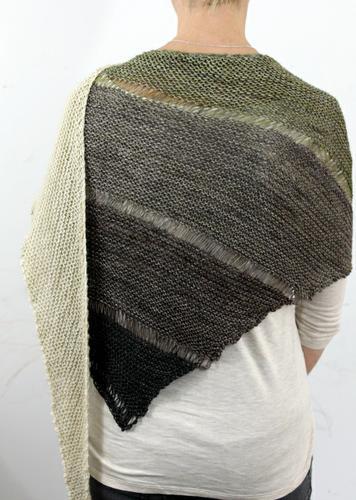 back view
I have four more designs in upcoming issues of Love of Knitting and Knitscene. Keep a look out for those!