Dotted Yoke Sweater
Feb. 7, 2015
A bottom up, in the round, round yoke, fair isle sweater.
I started this sweater waaaay back in September and never finished due to other projects jumping the queue. My goal for this project was to knit myself a sweater based on my measurements.
To begin, I just took some very simple measurements: hip, waist, bust. I cast on for the hem based on my gauge of 5 sts/inch and worked 2" of k1p1 rib. I also wanted to incorporate some waist shaping so worked to 5" before starting my decreases. Once I finished the body of the sweater, I started on the sleeves. I ended up knitting each sleeve twice. The first go round resulted in the sleeves being too short and too loose. The second time, increased every 10 rounds 12 times and I knit them 22" long. I think 21" would be the perfect length for me.
Sleeves attached successfully and on to the yoke. I knit for about an inch before starting the dots pattern. I needed to adjust a couple of stitches(read: decrease) to make the stitch count correct for my colorwork. I knit for 4" then did an aggressive, k1, K2tog around, with some minor tweaking to adjust for stitch counts to match the dots pattern again. Knit for another 2", then did the same decreases. As I came close to my desired yoke depth of 8", I shaped the back of the neck with 8 short rows. Then one more round of decreases and finally and inch of k1p1 for the neck band and that's it! Not to bad.
It fits me nicely and I am really happy with the outcome.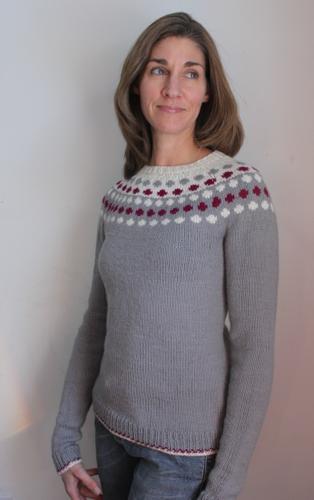 Dotted Yoke Sweater