Fly Away Hat
Aug. 28, 2015
New hat pattern. Another example of one idea evolving into something else
Fly Away hat is knit in the round and features a simple fair isle motif and a pompom to top it off. This hat was inspired by my own backyard. I live in the woods in Maine where we are fortunate to be surrounded by wildlife, including many different bird species. However, once the leaves start turning colors and the temperatures become much cooler, many of our chirpy neighbors disappear for the winter (although we have a few that stay year round). The birds fly away to their warm, sunny winter homes.
I originally designed the Fly Away Hat as a First Fall Knitty submission. It was, of course, rejected. In hind sight, it was for the best as it gave me a chance to rethink and rework the design.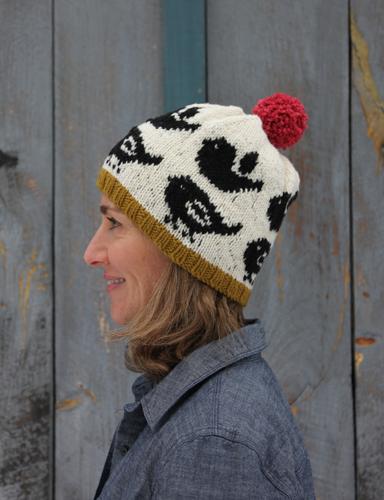 Original Fly Away Hat design
The thing that bothered me about the hat was the black yarn peaked through the cream yarn due to the securing of my floats and the highly contrasted colors. I have since discovered a stranding technique that remedies this very situation, but that will be for another post. This discovery was not made in time to help this particular design, however it will be very useful in the future.
I decided to go back to the drawing board, literally, and come up with a new fair isle design that would make it easier and less conspicuous to hide my floats. I filled the long, empty spaces between the birds with little motifs. This solved the problem and the new and improved Fly Away Hat was reborn.