New Design: Mykonos Wrap
May 19, 2015
Evolution of a design
The Mykonos Wrap is my contribution to Holla Knits Warm Weather Accessories 2015 collection. It is a lightweight and airy wrap. Perfect for summer knitting and wearing!
I thought I would write about the evolution of this design since my original idea and the end result are a bit different from each other.
This piece was inspired by a silk pashmina wrap my sister bought on a recent trip to Turkey. The wrap was made of sections of material held together by loose webbing so it looked like it was literally hanging together by threads. I thought I would combine that idea with the theme of Turkey and it's beautiful turquoise waters and quaint fishing villages with their fishing nets. So my swatch became large stockinette panels(representing the ocean) with smaller sections of purse stitch lace(fishing nets) in between.
Once my idea was accepted for publication with Holla Knits, we had a conversation about changing the ratio of stockinette to lace, so the lace portions would now be larger than the stockinette bands. Next came the yarn colors selection. I had to choose from Knit Picks lace lines(two of them) and decided on Gloss in Marina and Sterling which were the closest colors they had to my vision of turquoise seas and fishing nets and the colors actually ended up being really nice together.
So now I have my yarn and my revamped idea. I am ready to cast on and get started. But, wait, now I am thinking wouldn't this be better if it was garter stitch instead of stockinette? Email Holla Knits and yes, we all agree on that. So that is how one idea evolved into the final finished piece.
The entire collection as an ebook can be found at Holla Knits and Knit Picks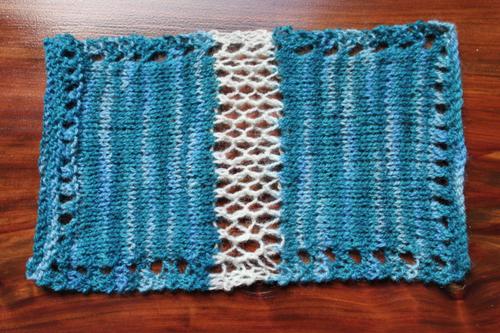 Original swatch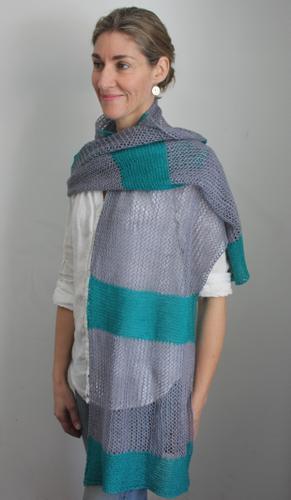 Final version before sending off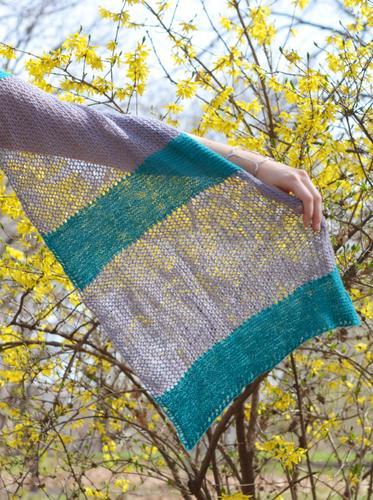 Holla Knits photography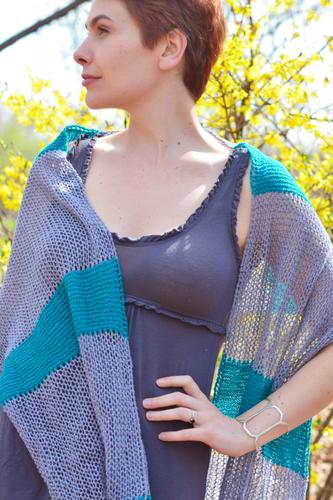 Holla Knits